Shores of Panama 1815
Steps to Your Sugar Sand Beach!
Shores of Panama Vacation Rental Condo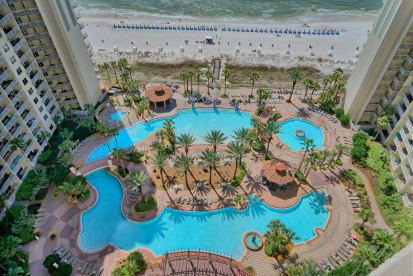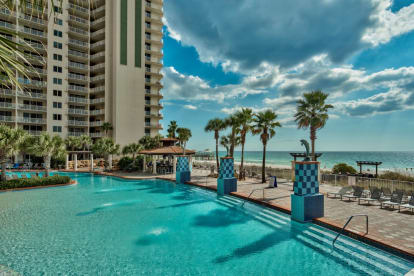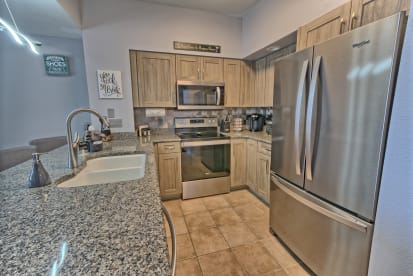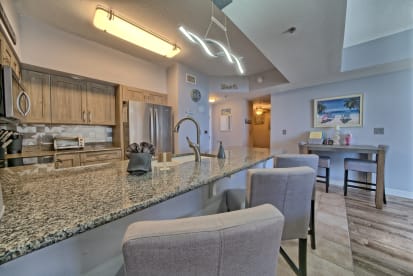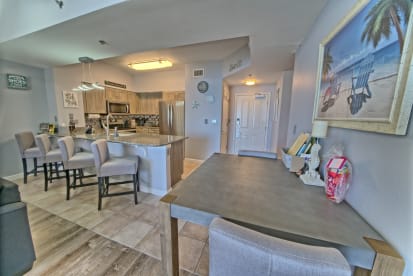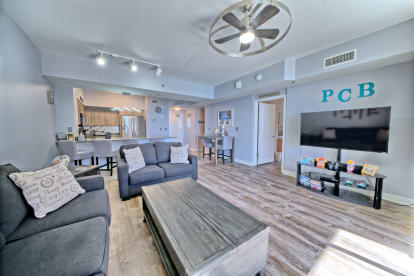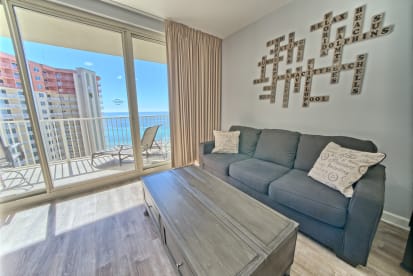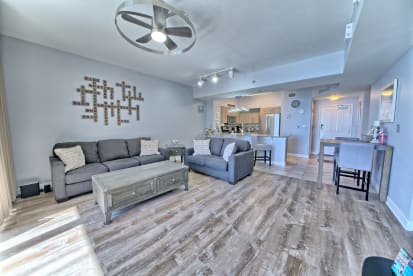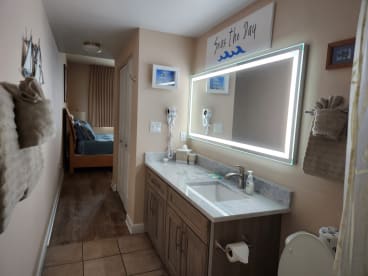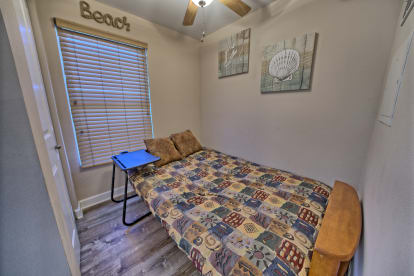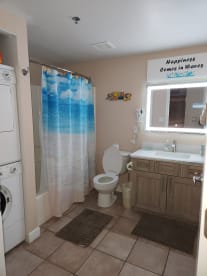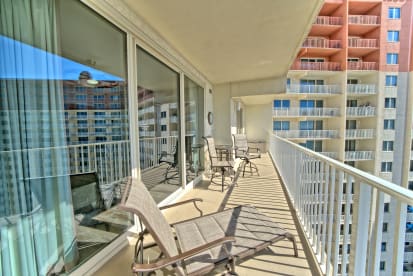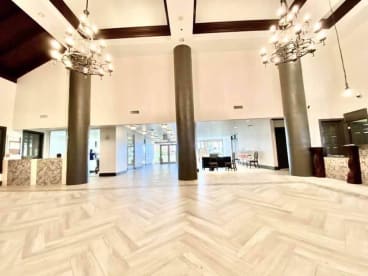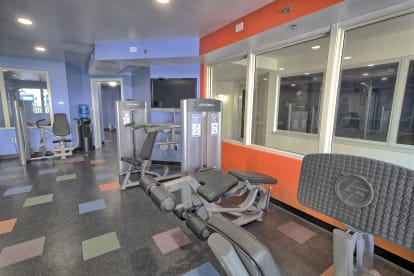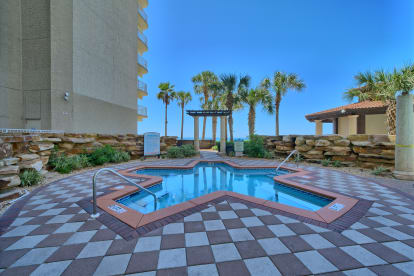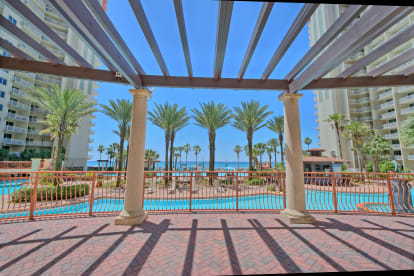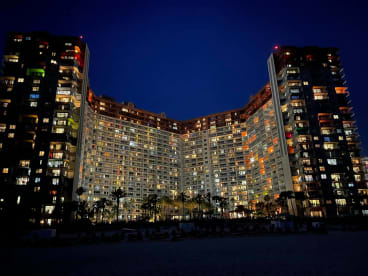 ---

My ECBYO listing
Description
Our newly remodeled Shores of Panama, fully furnished condo is located on the 18th floor of the 'Crown Jewel' of Panama City Beach in a beautiful resort atmosphere. When you finish that wonderful day at the beach or pool, don't forget to watch those glorious sunsets Panama City Beach is famous for.

There is a flat screen TV in each bedroom along with a 65" flat screen in the living room. A new stack washer and dryer, along with all the linens necessary, completes this well-equipped condo, including a hair dryer in each bath.

The sliding glass doors in the living room and the huge double balcony with patio furniture makes hearing the ocean waves very special.

Fine dining, along with many casual restaurants/bars, two large supermarkets, Target and Super Wal-Mart are all available within a mile.
Our condo comes with a reserved parking space, for your convenience.

Our fabulous pool area is right on the white sand beach and we're close to all the water/land sports, cruises and fun activities Panama City Beach has to offer. There are beach chairs/umbrellas along with beach service available for all of Shores of Panama guests to enjoy (extra charge applies).

**Please note that some of the complex amenities may be seasonal.

**25 is the minimum rental age for ALL single adults. We do not rent to Spring Break guests under 25.**

*Email is the preferred method of booking.

PLEASE READ OUR MANY 5 STAR REVIEWS!
Availability
Rates
From/To
Nightly
Weekend
Weekly
Monthly
Min Nights
08/06/2023
10/31/2023
$275
--
--
--
3
03/01/2024
06/01/2024
$275
--
--
--
3
06/02/2024
08/05/2024
$300
--
--
--
1
11/01/2023
12/31/2023
$125
--
--
--
3
01/01/2024
02/29/2024
$125
--
--
--
3
Email contact is preferred.
NO SMOKING, NO PETS ALLOWED! ANY INDICATION OF SMOKING OR PETS ANYWHERE IN THE UNIT OR ON THE BALCONY WILL AUTOMATICALLY FORFEIT YOUR TOTAL SECURITY DEPOSIT.       
Cancellation Fees Will Apply:
Up to 30 Days Prior to Arrival Date:  $100 will be Charged
29 Days or Fewer Prior to Arrival Date: ½ the Total Rental Amount Will Be Charged  
*There Will Be NO Refund if You Choose to Leave Earlier Than Your Scheduled Departure Date from the Unit, Unless an Official Evacuation has Been Declared.
*Inquire About Holiday Rates and Partial Week Rates (which may be higher).
Reviews
We had a fantastic stay!
We would like to thank you for another wonderful stay at your condo. It provided everything we needed to live as easily as if we were at home. The layout is perfect! We had a great time at the pool, beach and that 18th floor balcony provides an awesome view. Thanks again for a wonderful stay!
09/24/2015
Best time!
I had the best time here at your condo. Beautiful place, view, with a lot of places to walk to as well as shop. Loved Pier 77-can't get enough raw oysters! Loved them and the fried pickles. I will be renting your condo again!
04/26/2013
Clean Condo with a Great Owner!!
Two adults and two kids stayed in this condo for a week and had a great time. This condo was clean and well kept. You can't go wrong staying in this condo. Compared to our friend's condo at the same resort, this condo was much nicer and cleaner.
07/31/2013
Great family vacation!
My boyfriend and I and his two daughters stayed here for a week. The condo was roomy and perfect for the 4 of us. The balcony was one of the largest we have ever had and the girls and I stayed out there a lot and ate most meals out there. We were able to cook many meals in the kitchen and could stay away from the crowds that way. The condo was great, but there are some flaws about the property to know. The place is HUGE and the elevators aren't the greatest or the fastest. Expect them to be slow and crowded. Hey, this is vacation though so just be relaxed! The elevators actually didn't bother us as much as the other people did because of their complaining about them! If you stay here during prime season, expect the beach and pool to be crowded. That is just how it is. We did find however that if you go down to the beach and go past Pineapple Willy's for a couple hundred yards then it isn't nearly as crowded and you can enjoy the white sand and beautiful water there. Debbie was great to work with and we truly enjoyed our vacation there! Hope to return! Thanks!
07/17/2016
All we needed
My boyfriend and I along with some friends came to stay at Shores of Panama. The condo was great and very clean. The view was breathtaking and I spent hours just looking at the beach. I wish we could have stayed longer. We definitely will be back. Booking the condo was very easy and response time was great. Thank you for a great stay!
07/09/2016
Great Vacation
Me and my boys absolutely loved staying in unit 1815 at Shores of Panama! Truly a home away from home.
06/25/2016
Wonderful vacation condo
Debbie & Darryl were very friendly and easy to work with when it came to booking their home away from home. This was the nicest condo we have stayed in. It always smelled so good and clean. Very well maintained. The location was perfect. We loved the beach being footsteps from the pool. Dolphins actually came up to the beach area and were swimming within 40 ft from where we were swimming. The pool was always very clean and sparkling clear. The condo is loaded with everything you need. Walking distance to shopping and restaurants. I recommend their condo to anyone. The whole family loved it. Congrats to Debbie & Darryl on a job well done on this place.
06/19/2016
Great for families!
My family of five stayed here last March. Spacious enough for all five of us to have our own space. Two bathrooms was wonderful! Washer and dryer was fantastic as well. SO close and convienent to beach and pool! My kids loved it. Also close to walk to restaurants. We had a great time and so will you and your family.
03/26/2016
Beautiful Condo, Great Amenities, Great Location !!!!
My children and I stayed here for a week. The condo was very well equipped, extremely roomy, very clean, has a washer and dryer (which is a major plus), with a beautiful balcony that you can relax and have breakfast, lunch, dinner, or coffee. A Big Positive was that the condo is a few steps to the pool and the beach and ocean. The location was terrific in that it is walking distance to a WalMart and many restaurants. You really don't even need a car. The owners were easily accessible, very responsive, easy to book with, and made us feel extremely welcome. I would rent from them again and recommend them to anyone.
08/21/2016
Life is Good!
Debbie and Darryl, Thank you for the opportunity to rent your great place down here in PCB! This trip makes the 6th time for Robin at Casa de Trinco, but first time for the rest of us (she was a wonderful guide). What can we say? How can you go wrong in Panama City Beach? You can't!!! Weather was ideal, your condo had everything we needed, and the SOP staff kept it fun with activities, especially for the kids. It was the first time for the kids in the ocean, and double red flags for the first few days still couldn't keep them out! Big waves, body surfing, snorkeling, sandcastles & shells; sun & fun, music, dancing, games, drinks & eats! It was beach & pool; rinse and repeat!! Matthew celebrated his 7th birthday with all you can eat crab legs at Captain Jack's and loved it! We rode wave runners & jumped in the water with the dolphins, played mini golf at Pirate Island, go karts, a walk down Pier Park at sunset and more! (Oh yeah, Stanley Cup game OT...Blackhawks win!!) Thank you so much again. 'Life is Good!' Billy, Robin, Gracie, Isabella, Matthew
06/11/2016
Great Time!
Great condo, super clean with all the comforts of home but on the beach front. Great for all ages. Sitting on the balcony in the morning with a cup of coffee looking at the gulf splashing on the beach. Very relaxing. Great selection of restaurants within walking distance. Pineapple Willys on the beach. Great place to eat and enjoy good music. Pool area was really nice for all ages. I don't swim but there was a walk-in area at the pool. Nice bar and food at the pool area. I recommend this condo for a terrific vacation getaway. Would love to go back. Owners were very accommodating to all your needs. Walmart close for all supplies. Excellent!!!!!
08/06/2016
Great Vacation
It was the first time in Panama City and had a great time. Condo was very clean and had all the amenities of home. View was great; balcony looking straight at the gulf. Plenty to do within walking distance and everything to do within 15 minutes. Never had an issue getting chairs at the pool. Pool bar was great. I would go back
08/06/2016
Family Vacation
My family and I had a wonderful vacation in PCB staying in the condo. It has everything needed for your stay. The room was very clean, spacious, well laid out, and has everything you need to make yourself at home. The location is great, in walking distance to several places. The elevators within the complex were less than desirable, not enough of them and long wait times. The pool area was great and amenities around the pool were just as good.
07/02/2016
Perfect for a family vacation!
We stayed in this spacious and very clean condo for 5 nights with our 2 children, ages 13 and 10. It was like a home away from home. The condo itself has everything you need for a comfortable stay. I was able to feed the kids breakfast every morning without going out to a restaurant. We spent the days at the beautiful beach and enjoyed dinner outside every night at local restaurants. Our vacation was the perfect combination of relaxation and fun!! The owners of the condo are very accommodating and helpful. We would definitely return...hopefully soon!
07/30/2016
Very nice view
We have stayed at several resorts in the PCB area over the past few years for the USFA Fastpitch World Series. We enjoyed our stay. We also took our first parasail adventure high above the water. It was very exciting. The room was clean and had a sundry of cooking ware and household detergents and items to get the stay started. The covered parking was definitely a plus, a little tight, but manageable. Luggage cart availabilty was acceptable as well. The staff was accommodating. Lodging is close to great dining and Walmart is within easy walking distance with the Dollar Tree within view.
07/16/2016
Great condo, great experience, great vacation!!
We spent 5 days in PCB and this condo was GREAT!!! We loved staying there and it was one of the best things about the vacation. Two bathrooms was a definite bonus, the view is spectacular, great location, BEAUTIFUL beach (best thing about the area) and all of us enjoyed the balcony and the multiple TV's. Everything was super clean too which is always nice! We even watched one of your DVD's (Summer Rental) one night. All those little extra touches of "home" were noticed and appreciated :) Unluckily, we had some bad weather and rain which meant we had to spend a lot of time indoors. Luckily, the condo was so nice and large that it made being indoors pleasant and relaxing instead of feeling cooped up! Despite the weather we all had a fantastic time with lots of great memories made. Thank you!
08/27/2016
Amazing!
The accomodations, view and proximity of the ocean, pool, and service is beyond compare to anywhere else we have vacationed. A special thank you to the owners who supplied the little extras that made us feel welcome. We would definitely request this condo as our next year vacation haven.
09/06/2011
July 4th at the Shores Of Panama
Great time at the Shores, weather was great all week, beautiful pool and all the food right there at the pool. No need to go up and down to the room to eat-just sit back and enjoy and Pineapple Willies restaurant and cool drinks just next door. The room was great with great view and everything you need was in the room, just get some food and munch out. Our stay was relaxing. I love the beach, so I hung out there till the sun set. The condo is right across the street from Wal-mart-very close by if you need anything. If you like the pool then get ready, this is a great pool for kids and adults, big and shade in areas and sun in others. So pick your spot. We loved it and you will if you make it your vacation.
07/01/2012
Nice Condo!
This condo is well-equipped with everything you need and then some! The owners have done a really great job with the upkeep. The personal photos in the condo give this place a very homey feel. I was worried about the elevators since it was on the 18th floor but wait times weren't too bad. The view is better than most lower level floors. There was plenty of room for my family of four.
05/26/2017
Very Nice Facility
Debbie and Darryl,
We had a great visit to Panama City Beach and really enjoyed your condo! Thanks for working with us on such short notice!
03/21/2015
Very Cool!
Debbie and Darryl,
Your condo was like a home away from home. Very well equipped and proviided a setting that was relaxing. We had a wonderful time here in PCB. We saw dolphins swim up to the beach where everyone was swimming! Very cool! The kids spent most of the time in the pool or on the beach. We really wish we could stay here forever but have to go home now. Thank you for everything!
06/06/2015
Played in the Waves!
Debbie & Darryl,
We have loved our week here at the beach! The pool was amazing and we had a great time at the beach! We built some amazing sand castles and had some great times playing in the waves!
Thanks and hope to visit again!
07/25/2015
Thank you!
Dear Debbie & Darryl,
Thank you so much for allowing us to stay in your beautiful condo. The views and amenities were everything we needed to have a memorable stay. We ate at many of the restaurants you suggested and all were great. Thank you for taking the time to ensure we had everthing we needed. It was so nice to hear the ocean waves and to sit on the balcony and appreciate life and our family and friends. Thank you for everything.
04/01/2017
We will definitely recommend y'all to everyone!
Mr. & Mrs. Trinco,
Thank you for allowing us to stay in your beautiful condo. The beach, pool, & restaurants are wonderful around here. Our family has very much enjoyed our down time here in PCB. We will return & be using your place again soon. Our new family vacay spot! Thank you again for everything!
05/20/2017
We will be contacting you again!
Debbie and Darryl,
Thank you so much for the opportunity to stay in your condo. It is absolutely beautiful-just like being at a home away from home. The weather was beautiful as was the pool and beach! We will be contacting you again. Once again-thank you so much.

PS: I will pass along your info to friends and family.
07/22/2017
Mr & Mrs Trinco
Thank you for the opportunity to stay at your condo.. The view is amazing!! We enjoyed the beach and pool everyday. I'm sure we will be back again !!
03/25/2018
Perfect Vacation
Thank you for the opportunity to stay at your place. It was absolutely wonderful. The condo itself had everything you would need. Just like being at home. It was so accommodating for our family. the beach and the pool area were amazing. We had an absolute wonderful time. FYI-Debbie was brilliant to work with. She was so understanding and worked with me on my payment schedule. Thank you again for a wonderful vacation.
07/14/2018
Debbie & Darryl

I can't say enough wonderful things about our vacation in PCB and staying in your condo. It was very well kept, everything we needed was there, having two full bathrooms with 3 kids was a huge plus. The pool is the best one out of all the places at PCB. The walk to the beach is so short my kids didn't even complain. My kids stated this was one of the best vacations they have ever had. If it was up to my husband we would live here. We can,t thank you enough for making our family vacation so memorable and special! I would recommend your place to everyone.
08/08/2018
Thanks!
We had a lovely time here. The view is great and the weather was perfect. Your condo is perfect. The location was great with all the good restaurants and the beach right outside our door.
07/12/2018
Thank You!!
Debbie and Darryl,
We had a wonderful time at your place. The kids really enjoyed the beach and the pool. Everything is so convenient and beautiful. Waking up to this view is something we can get used to!
07/21/2018
We will be back!
Debbie and Darryl,
Thank you again for the condo. It's amazing to be able to wake up to that view every morning. Everything was amazing and we enjoyed ourselves!
08/31/2018
Thank you again!!!
We had a wonderful time at your condo! The view is great and everything was great! Thank you for giving us the opportunity to stay at this wonderful place! We will for sure try and get your place the next time we come down!
10/05/2018
Family vacay
The Condo was very nice. And the owners were on top of everything. We didn't even know the battery was low on the door lock until they had someone there replacing it! Impressive!
05/24/2019
Cherished Memories

Debbie was amazing to work with in planning our stay; additionally, she checked in on us to see if we needed anything while we were there. The view was awesome, the balcony was perfect for watching nightly fireworks and for the 4th of July fireworks. We loved that she had everything we needed for the beach, especially the beach cart/buggy!! I truly don't believe we could have stayed anywhere else and been any happier. This was my first time in PCB and my husbands first time in Florida - thank you for the memories, we will cherish all of them.
06/30/2020
Amazing Condo!
This place was perfect! Ocean view from deck, Living room, and master bedroom. Was spacious, clean and great decor. Debbie was so helpful. We had the best time. Elevators was super slow, but the condo, view and people were amazing!!!
07/29/2020
Great place to share memories!
My family and I spent a week her and we had a splendid time! The condo is very spacious and decorated very nicely. The bed is very comfortable! We can't wait to come back and have another wonderful time!
03/20/2021
A piece of paradise
We had a wonderful time in your beautiful and spacious vacation condo. Absolutely everything we needed was there and updated. Thank you for an awesome vacation!
04/03/2021
Amazing week!
We had an awesome vacation! Condo was fabulous! Such amazing views, just breath taking! Thank you again Debbie & Darryl.
05/16/2021
Amazing condo!!
We just got back from staying in this beautiful condo! I felt so lucky to have found this place. As soon as You walk into the condo you see that beautiful beach view! My jaw dropped as soon as I saw it. The condo is so beautiful & had everything we needed & even though it was just me & my fiancé I was very excited about having two bathrooms! One for me & one for him to get ready after being in the beach all day. I loved the pool & how you can literally walk a few steps to the beach. Thank you for letting us stay in your beautiful condo! Definitely renting it out again!
05/27/2021
Leianne T.
This a beautifully decorated condo with great modern updates and a fabulous view from the 18th floor!! Great for a small family! We rented both of Debbie's condos and had a great family vacation!! Both condos were very clean and we had plenty of room for our large group. You will love this smaller unit if you have a small group up to 6. It's fabulous!!!
07/17/2021
beautiful condo
Our second time staying at Panama Shores Condos. We stay at Debbie and Darryl's unit. When we arrived, we were so pleasantly surprised walking in to a totally renovated condo. It is stunning! Contemporary with a total beach theme. We had a breakfast burrito and coffee downstairs before we went outside to the beautiful pool! Lunch time we decided to order a sandwich poolside, $12.00 will get you a great sandwich and fries. The pool bar has the best tropical drinks at a reasonable price. They also, have a cook your own bbq area. Grills and picnic area. Bring your charcoal and burgers. Very nice! After dinner we decided to go downstairs for a tasty ice cream cone. I am not sure about any other owner in Panama Shores Condos, I know 1815 is beautiful , the view is center in the complex overlooking the water. Enjoy your coffee in the morning on their beautiful balcony. We also, never had an owner leave us everything we needed for a start up. These kids have thought of everything. We didn't have to shop for essential until days later. They supplied the basic startups and much more. We have rented condos many times and we had to shop for a basic essential as soon as we arrived. A total disappointment for the beginning of a vacation. We will be coming back to Panama Shores very soon. Thank you, Debbie and Darryl for our beautiful vacation spot.
09/20/2022
Renter
We really enjoyed our month long stay. The views were spectacular to enjoy our morning coffee on the balcony. The newly renovated condo was equipped with everything we needed. It was wonderful to take a morning walk along the beach with the easy access to the sand and gulf. Lots of restaurants and bars are also within walking distance. Really appreciated Debbie being available to answer any questions we had during the month. Thanks for the great vacation.
02/01/2023
Great Time!

We rented this condo for my daughter's senior trip. We had 6 women. The condo was very nice, clean, convenient to the beach, restaurants, Wal-mart, etc. Mrs. Debbie was very helpful with booking and sharing her knowledge of Panama. Any questions we had she was quick to answer. The pool was very nice! The only bad thing I experienced was the parking. The dedicated spot is super tight, but I do have a Yukon xl and the car next to me was always on the line. The parking garage guys did not hesitate to help. I found a spot anyone can park, left it in that spot the rest of the week, and rented a golf cart. All in all we had a great time and I would definitely stay here again!
06/26/2023
Great time!
The condo had everything we needed. It was clean (and I'm picky about cleanliness)! We loved that the condo was newly renovated. Will be back!
07/22/2023
Amenities
Bedroom Setup
1 Futon
1 King Bed
1 Sofa Bed
Dining Room
Dining Table
Eat in Counter
Eat in Kitchen
Bathroom
Bathtub
Linens & Towels
Private Bathroom
Shower/Tub Combo
Hairdryer
Bedroom Extras
Private Bathroom
Alarm Clock
Cooling Comfort
Ceiling Fans
Central Air Conditioning
Entertainment
Big Screen TV
Cable TV
DVD Library
DVD Player
Fishing
Golf
Jet Ski
Swimming
Television
TV/DVD
TV/VCR
Video Library
DVD/VCR
Smart T.V.
Netflix
Wedding Friendly
General
Linens Included
No Pets
No Smoking
Vacuum
Fitness Center
Condo
Elevator/Lift
Managed By Owner
Home Office
High Speed Internet Access
Wireless Internet Access
Kitchen
Washer/Dryer
Blender
Breakfast Bar
Can Opener
Coffee Maker
Dishes
Dishwasher
Disposal
Fully Equipped Kitchen
Gourmet Kitchen
Ice Maker
Ironing Board
Microwave
Mixer
Oven
Pots and Pans
Refrigerator
Stove
Toaster
Utensils
Crock Pot
Keurig
Outside Living
BBQ Grill
Community Pool
Deck
Outside Shower
Porch Furniture
Private Parking
Restaurants
Indoor pool
Gulf/Ocean View
Gulf/Ocean Front
Balcony
View (Water)
Waterfront
Beachfront
Hot Tub/Heated Spa
Parking
Covered
Parking Available
Parking for 1 car
Garage Included